Welcome to our June 2023 newsletter.
Celebrating cancer survivor stories from cell and gene therapy.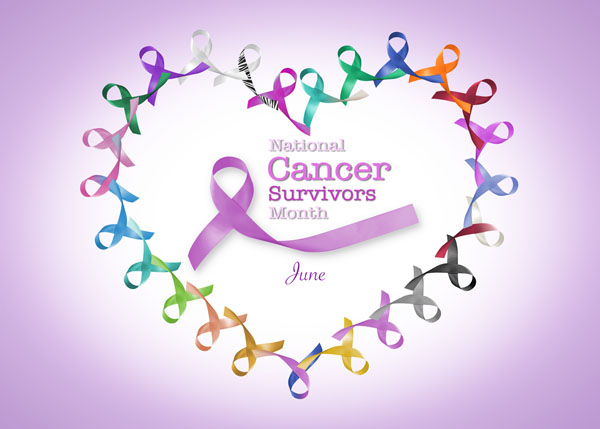 June is National Cancer Survivors Month. For Alliance for Cancer Gene Therapy (ACGT), it's an opportunity to celebrate stories of survivorship involving trailblazing patients who have received cell and gene therapy to treat their cancer diagnosis.
Cell and gene therapy is an emerging type of cancer treatment where the patient's immune system is reprogrammed to better search for and destroy cancer cells, all while minimizing the damage to healthy tissue. This type of treatment has made enormous strides in the last decade and is showing remarkable results beyond "standard of care" treatments such as chemotherapy, radiation and surgery.
Since 2017, the FDA has approved seven cell and gene therapies for cancer, and there has been a growing number of patients who are benefiting from cell and gene therapies. These are helping to transform cancer treatment and how we fight cancer.
Many of these patients have already lived for more than a decade since receiving the treatment — and are considered "cured" of their cancer. Emily Whitehead recently reached the 11-year milestone since she received CAR T-cell therapy (a type of cancer cell and gene therapy), and Doug Olson is at 12 years of survival since he received the treatment. They were both blood cancer patients, clinical trial participants, and their cancer journeys helped lead to the eventual FDA approvals of CAR T-cell therapy for various blood cancers.
There are many more patients who are receiving cell and gene therapy treatments and who are on their way to survivorship. In an article published on the University of Colorado Anschutz website, Katherine Haug, a blood cancer patient, said she enrolled in a CAR T-cell therapy clinical trial to be part of something "bigger than herself." Her unselfishness was rewarded when the cell and gene therapy put her cancer in remission, and the clinical trial's success led to an FDA approval.
"Go live your life, and I'll see you in a year," Katherine's doctor told her in November of 2021.
An article published on the University of South Carolina Hollings Cancer Center website tells the story of Marcus Humphrey, who had one of the worst cases of blood cancer his doctor had ever seen. One year after he received CAR T-cell treatment, Marcus is still in remission. He and his wife are now planning a trip to Europe.
"Not too long ago, he was close to a hospice conversation," his doctor said. "Now he is taking every advantage possible to live life to the fullest.
"This is the goal for all patients receiving CAR-T – to give them their life back as it was prior to (cancer)."
Share your story of cancer survivorship.
Now is your chance to participate in ACGT's celebration of National Cancer Survivors Month. If you or someone you know has received cell and gene therapy for cancer, we invite you to share your experience with us.
Whether you are the patient undergoing CAR T-cell therapy, the loved one of a patient, or a medical professional who has treated a patient using cell and gene therapy, your story can inspire others. You'll also help us raise awareness of cell and gene therapy and empower patients to learn more.
Please email Devin Golden at dgolden@acgtfoundation.org with your cancer survivor story.
Make waves to fight cancer on June 24 with Swim Across America.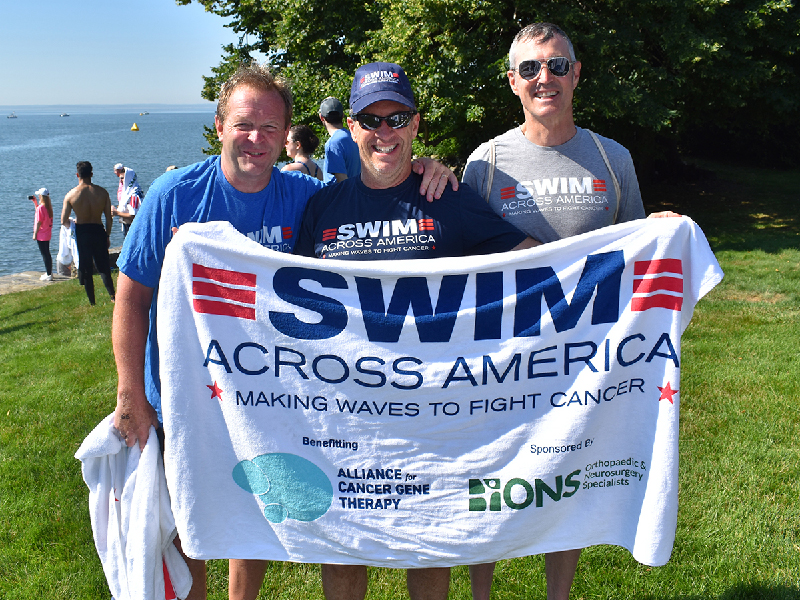 The 17th-annual Swim Across America Fairfield County (SAA-FC) Open Water Swim will be held on Saturday, June 24, at 96 Cummings Point Road in Stamford, CT. The event raises money to benefit Alliance for Cancer Gene Therapy (ACGT).
Through 2022, swimmers, volunteers, donors and the incredibly hard-working SAA-FC volunteer leadership have raised more than $5 million to benefit ACGT with their ongoing efforts in making waves to fight cancer.
This year is another opportunity to move us closer to beating cancer once and for all. Check-in for this year's Swim begins at 6:30 a.m. (eastern time) and the first swimmers hit the water at 8:05 a.m. in the beautiful Long Island Sound.
"Everyone has someone they know or love who has battled or is battling cancer," said Nancy Carr, co-chair of SAA-FC. "It's a disease that has sadly touched too many of our friends and too many in our community. But through organizations like Swim Across America Fairfield County, we can make a difference and raise funds that go toward life-saving treatments that can change the outcomes of this disease."
There are three distance options for the open water swim: 0.5 miles; 1.5 miles; and 3 miles. There is a minimum fundraising requirement of $500 for swimmers ages 18 and older. Swimmers younger than 18 have a minimum fundraising level of $300.
Swimmers can participate as individuals, or they can start a team or join a team that has already been formed and registered. Individuals can also participate virtually in SAA My Way by doing their own activity on their own timeline to raise money for SAA-FC.
Even if you can't swim, you can donate to a swimmer, a team, or the event in general. Every dollar SAA-FC donates to ACGT goes directly toward research.
"Our goal this year, as it has been in the last few years, is to raise $500,000," Nancy said.
Money raised from the Open Water Swim benefits ACGT and has helped fund more than a dozen research projects over the last 16 years. Juan Fueyo, MD, of The University of Texas MD Anderson Cancer Center, is one of the newest ACGT Research Fellows funded by Swim Across America.
Other ACGT Research Fellows funded by Swim Across America include: Brian Brown, PhD (Icahn School of Medicine at Mount Sinai Medical Center); Sidi Chen, MD, PhD (Yale University School of Medicine); Stephen Gottschalk, MD (St. Jude's Children's Hospital); Noriyuki Kasahara, MD, PhD (University of California, San Francisco); Khalid Shah, PhD, MSc (Harvard Medical School); Thomas Kipps, MD, PhD (University of California, San Diego); Arnob Banerjee, MD, PhD (University of Maryland School of Medicine); John Bell, PhD (Ottawa Hospital Research Institute); Fan Yang, PhD (Stanford University); Samuel Katz, MD, PhD (Yale University School of Medicine); Crystal Mackall, MD (Stanford University); and Greg Delgoffe, PhD (University of Pittsburgh).
Register today for the 17th-annual Open Water Swim on the SAA-FC website at https://www.swimacrossamerica.org/fc.
ACGT attends the American Society of Gene & Cell Therapy Annual Meeting.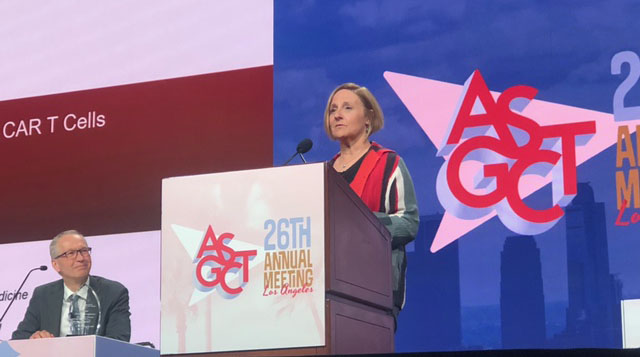 The American Society of Gene & Cell Therapy (ASGCT) Annual Meeting was held in Los Angeles from May 16-20 with close to 8,000 attendees! Alliance for Cancer Gene Therapy was represented by several members of its Scientific Advisory Council, Research Fellows and staff.
Barbara Lavery, ACGT's Chief Program Officer, was an invited speaker at the event presenting a talk titled Patient Advocate Perspectives on Approved Gene Therapies highlighting the stories and experiences of patients who have been treated with CAR T therapies and discussing the challenges community oncologists face in providing these therapies to their patients.
During the same patient-focused session, ACGT Scientific Advisory Council member Stephen Russell, MD, PhD, CEO of Vyriad Inc., presented a talk titled Clinician Perspectives and Patient Care Considerations for Implementing Cancer Gene Therapy highlighting the physician's role in helping patients access CAR T therapies.
ACGT Scientific Advisory Council member and Research Fellow Crystal Mackall, MD, of Stanford University, presented the George Stamatoyannopoulos Memorial Lecture titled Expanding the Reach and Efficacy of CAR T Cell Therapies, providing an overview of the successes of CAR T therapies for patients with blood cancers and discussing significant progress in treating patients with brain tumors through ongoing clinical trials. Dr. Mackall highlighted the potential of cell therapy for patients with solid tumors and thanked funders including ACGT for their support in advancing critical research.
Bruce Levine, PhD, the Barbara and Edward Netter Professor in Cancer Gene Therapy at the University of Pennsylvania, was a recipient of the Jerry Mendell Award for Translational Science at the conference. Dr. Levine's presentation told the story of CAR T from its earliest beginnings in the lab, through the first clinical trials and incredible patient responses, to the approval of multiple CAR T products that are being used to treat patients globally today. Dr. Levine thanked philanthropic funders including ACGT and underscored that without this early ACGT support we would not have the new therapies we have today. Dr. Levine also stressed the need to bring these lifesaving therapies to all patients, not just those who are close to NCI-designated centers of excellence, like the University of Pennsylvania. Dr. Levine also wished Emily Whitehead (Emily Whitehead Foundation), the first child treated with CAR T therapy who is now 11 years cancer-free, a happy 18th birthday and congratulated her on starting her college career.
ACGT Research Fellow Daniel Powell, PhD, of the University of Pennsylvania, chaired a workshop on "Immune Effector Cells" with speakers from biotech and academia highlighting progress in next-generation CAR T therapies and other cell therapies using TILs, TCRs and macrophages. Dr. Powell was funded by ACGT to develop a CAR T therapy for ovarian cancer that is currently in a phase 1 clinical trial.
Joseph Fraietta, PhD, of the University of Pennsylvania, participated in a scientific symposium titled Tumor Microenvironment as a Barrier to the Success of Immunotherapies and Strategies to Overcome. Dr. Fraietta discussed his recent work to "armor" CAR T cells, giving them the ability to get past the immunosuppressive tumor microenvironment found in prostate cancer. This approach is being studied in a phase 1 clinical trial that was supported by ACGT grant funding.
The ASGCT meeting showcased the incredible advances being made in cell and gene therapies for cancers and other diseases. ACGT congratulates its Scientific Advisory Council members and Research Fellows on their participation.
Together We Can Achieve More. Together We Can Secure a Cancer-Free Future.

For more than 17 years, ACGT has relied on continued support from our affiliated fundraising partners to expand our ability to fund more scientists in the race to end cancer.
Thanks to organizations like Swim Across America Fairfield County, Wendy Walk, Play for P.I.N.K. and Leave It On The Road, awareness and support for cell and gene therapy has grown exponentially and provided $6 million in direct support of ACGT research in this underfunded, but highly promising, field.

Whether you like to swim, walk, cycle, golf, or volunteer for a cure, each of these community events provide a fun day of rallying together in honor of the friends and loved ones affected by this disease.

Visit https://acgtfoundation.org/take-action/events/ for more information or to register for upcoming events, including Swim Across America on June 24 and Play for P.I.N.K. on August 12.
If you are interested in supporting ACGT through your own fundraising event, please contact Keri Eisenberg, ACGT's Chief Philanthropy Officer, at (475) 400-4373.
The latest from around the cancer cell and gene therapy research world.
All newsletters.
Subscribe to our newsletters.