Welcome to our July 2023 newsletter.
Sarcoma Awareness Month: Q&A with a sarcoma scientist.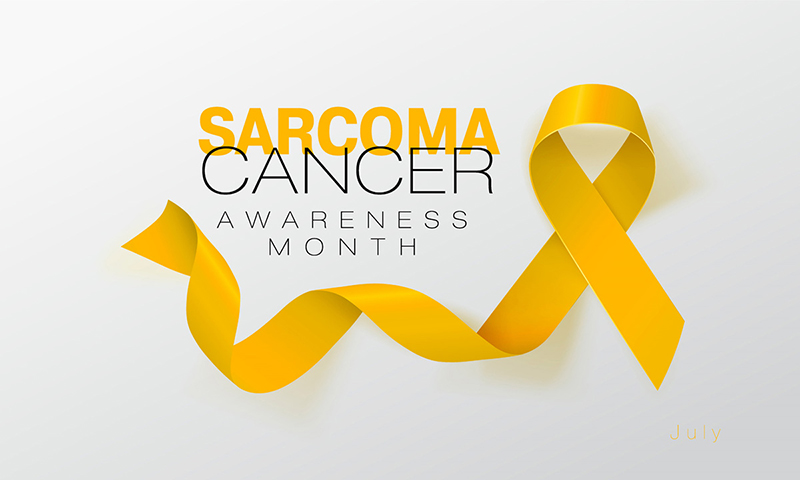 Sarcomas are a rare group of cancers often labeled the "forgotten cancer." Each year, between 13,000 and 16,000 people in the U.S. are diagnosed with sarcomas, and approximately 5,000 people die from these cancers annually.
Alliance for Cancer Gene Therapy (ACGT), which funds innovative research focused on the power of cell and gene therapy to transform cancer treatment, has not "forgotten" about sarcomas.
July is Sarcoma and Bone Cancer Awareness Month, and an opportunity to highlight the potential of cell and gene therapy to treat people with these cancers. This month, ACGT is raising awareness of recent advances in cell and gene therapy research for sarcomas, the need for more progress, and how everyone can help ACGT bring new therapies to patients.
Stephen Gottschalk, MD, of St. Jude Children's Research Hospital, is an ACGT Research Fellow focused on developing a type of cell and gene therapy, called CAR T-cell therapy, to treat children with sarcomas.
Dr. Gottschalk recently spoke with ACGT about the challenges of treating sarcomas, the need for new therapies, and the importance of ACGT in supporting scientists like himself with crucial funding for cutting-edge research.
What are some of the challenges with advancing cell and gene therapies for sarcomas?
Dr. Gottschalk: "I think the biggest hurdle is the limited number of biopsy specimens and, in general, the lack of patient samples to analyze and research. For rarer cancers like sarcomas, there are just fewer patients to study whereas if you're studying the biology of lung cancer, there are hundreds of patients.
Secondly, in a world of limited resources, more research funds are allocated to the most common cancers rather than rare cancers like sarcomas. So we need more dollars directed toward sarcoma research."
How did you become focused on researching and studying cell and gene therapies for sarcomas?
Dr. Gottschalk: "When you look within pediatric cancer cases, we've made great strides in improving the survival of pediatric leukemia patients. However, there are a few cancer types, like sarcomas, where progress is lacking.
The poor outcomes of sarcomas, especially once they've recurred in pediatric patients, has drawn my interest to study them."
ACGT has funded multiple research projects focused on cell and gene therapies for sarcomas. Can you explain ACGT's impact in advancing cell and gene therapies for these cancers?
Dr. Gottschalk: "ACGT funds research that is translational. By translational, I mean taking foundational knowledge or basic science discoveries and moving them into early phase clinical testing. Unfortunately, a lot of funding organizations don't consider this innovative enough.
On the contrary, without translational research, you'd never get these new therapies to the clinic. ACGT has done an outstanding job of funding this research phase between the basic discoveries and clinical trials. It's this in-between phase where we roll up our sleeves and figure out whether the therapy can actually work."
ACGT has awarded $34.2 million to 63 scientists who are conducting groundbreaking cell and gene therapy research. If you'd like to help ACGT advance this critical, potentially life-saving science, donate on our website.
17th-annual SAA-FC Open Water Swim benefits ACGT.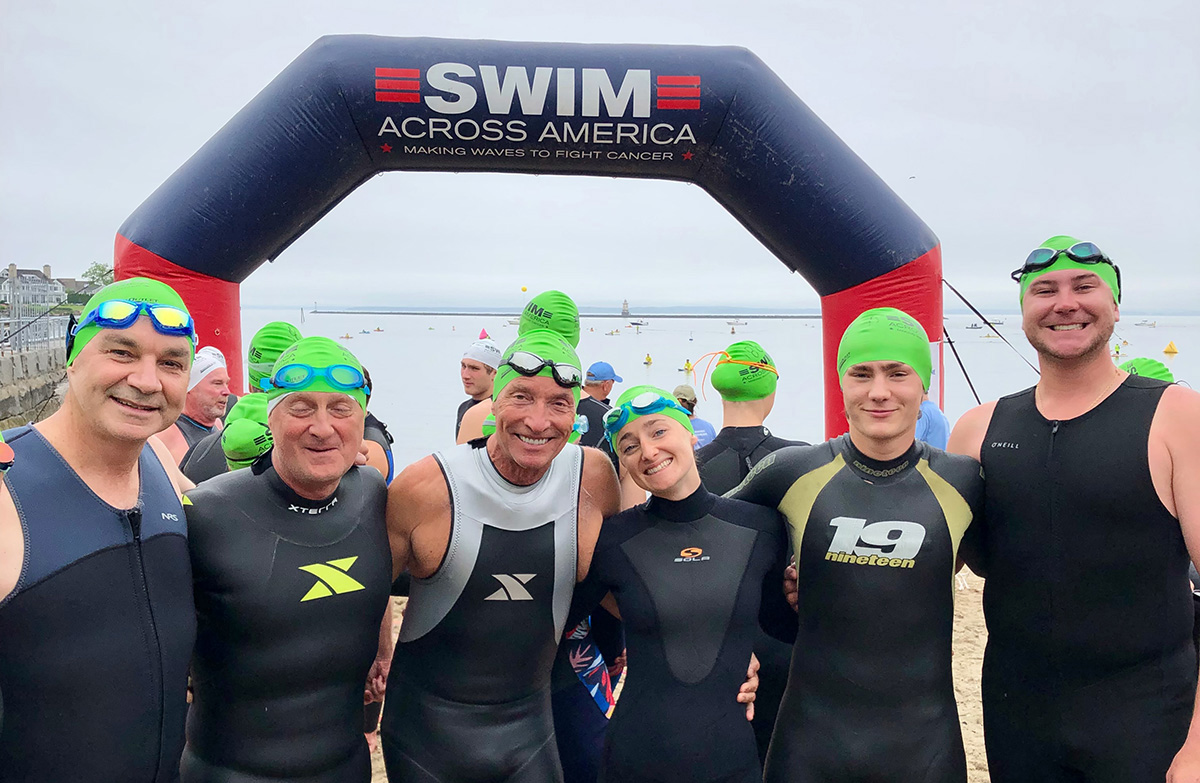 Swim Across America Fairfield County held its 17th Open Water Swim on June 24 in Stamford, CT, in the Long Island Sound. The fundraising event benefited Alliance for Cancer Gene Therapy, and more than 200 people participated in the annual event.
Swimmers, volunteers and donors have raised more than $350,000 so far this year and more than $5 million since partnering with ACGT in 2007.
Funds raised from the Open Water Swim have helped ACGT award grants to more than a dozen researchers during the last 17 years. Juan Fueyo, MD, of The University of Texas MD Anderson Cancer Center, is the newest ACGT Research Fellow funded by Swim Across America. Brian Brown, PhD, of Icahn School of Medicine at Mount Sinai Medical Center, another ACGT Research Fellow funded in part by SAA-FC, attended and spoke at this year's event.
ACGT is beyond grateful for all of the swimmers and volunteers who trained and participated in this year's event. You can learn more about how SAA-FC supports ACGT and its mission to create a cancer-free future: https://acgtfoundation.org/news/swim-across-america-funding-helps-acgt/.
ACGT Research Fellow Yvonne Chen, PhD, helps develop unique CAR T cells to treat lymphoma.
Yvonne Chen, PhD, Associate Professor, Microbiology, Immunology & Molecular Genetics at University of California, Los Angeles, is an ACGT Research Fellow who received grant funding to develop a more effective CAR T-cell therapy to treat patients with B-cell lymphoma, which is the most common type of non-Hodgkin's lymphoma.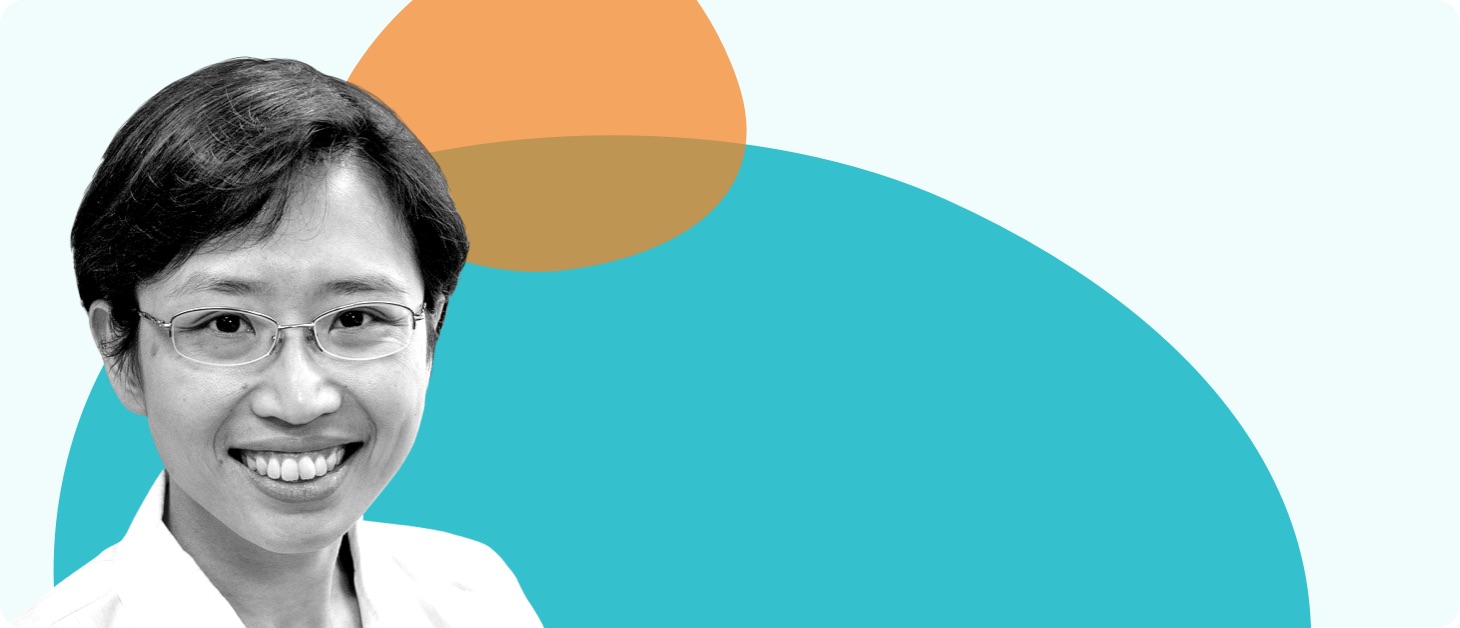 CAR T-cell therapy is a type of cell and gene therapy where scientists remove the patient's T cells and modify them in a laboratory by giving them a new protein receptor. This new receptor directs the T cells to look for and destroy cancer cells with a specific protein.
Dr. Chen's ACGT-funded project led to the development of CAR T cells that target the protein CD20 in B-cell lymphoma. The first clinical breakthroughs in using CAR T cells involved targeting the protein CD19.
Dr. Chen took her research a step further by designing a type of "bispecific" CAR T-cell therapy that can target two different proteins (CD19 and CD20) at the same time in patients with B-cell lymphoma. This approach can lower the risk of patients developing a resistance to a CAR T-cell therapy with only one protein target – a phenomenon called "antigen escape."
According to an article on the UCLA Health website, in a phase 1 clinical trial, Dr. Chen and other scientists treated 11 patients with relapsed or refractory non-Hodgkin's lymphoma with the bispecific CAR T cells. As of March 2023, 10 of the 11 patients responded positively to the treatment, and 8 of 11 had a complete response.
One-day think tank focuses on cell and gene therapies for pediatric cancers.
On the heels of the American Society of Clinical Oncology annual meeting in early June, ACGT Scientific Advisory Council member and Research Fellow Crystal Mackall, MD (Stanford University), and Don Kohn, MD (University of California, Los Angeles), brought together leaders in cell and gene therapy development for pediatric cancers and rare diseases for a one-day think tank in Washington, D.C.
The event, entitled Ensuring Pediatric Access to Emerging Cell and Gene Therapies, was designed to align the clinical and research communities around the urgency surrounding more access to cell and gene therapies for pediatric diseases and identify next steps needed to begin to solve the problem.
As summarized by Dr. Mackall, the cell and gene therapy field is witnessing unparalleled advances that hold great promise for children with genetic diseases and cancer. Biopharma investment in this arena is growing, but the high cost of developing these therapies combined with small markets in pediatrics diminishes the likelihood that the private sector will advance these therapies at the pace needed to ensure access to all children who can benefit.
The one-day think tank addressed the challenges to commercializing life-saving cell and gene therapies for pediatric disease using current models and what first steps are required to launch new models to solve the problem. The event drew approximately 50 in-person participants and 35 virtual participants spanning academics, advocates, regulators, public funders, and press from the U.S. and Europe.
Government leaders, including Peter Marks, MD, PhD, Director of the Center for Biologics Evaluation and Research, FDA, Renee Wegrzyn, PhD, Director of the Advanced Research Projects Agency for Health, and Maria T. Millan, MD, President and CEO of the California Institute for Regenerative Medicine, presented efforts their agencies are making to support the development of pediatric therapies. Top research scientists outlined the incredible potential of cell and gene therapies and posited solutions to meet the challenges of commercial development and the promotion of equity in patient access.
Additional speakers included ACGT Research Fellow Stephen Gottschalk, MD, of St. Jude Children's Research Hospital, who is currently funded by ACGT to develop a novel approach to attack pediatric sarcomas with genetically engineered immune cells, called EDB-CAR T cells, which relies on attacking not only the cancer cell but also the supporting blood vessels, which are critical for tumor growth.
Standout presentations included:
Potential U.S. Nonprofit Biotech Model for Pediatric Cell and Gene Therapy by Dr. Mackall, who presented a new approach to funding and developing pediatric therapies that is not driven by the large market commercialization strategies necessary within public biotech and pharma companies.
Envisioning the Future of Gene Editing in Pediatrics by Fyodor Urnov, PhD, of Innovative Genomics Institute and University of California, Berkeley, who outlined his vision of curing disease through gene editing and the challenges of making it reality as featured in his recent guest essay in the New York Times.
In our own efforts to support the field, Alliance for Cancer Gene Therapy has funded the following pediatric research programs:
Dr. Gottschalk's development of EDB-CAR T cells for pediatric sarcomas. A clinical trial will be planned based on the results of the current grant.
Hideho Okada, MD, PhD, of the University of California, San Francisco, who is testing an engineered T-cell receptor therapy in a first-in-human phase 1 clinical trial to target a specific protein mutation expressed in pediatric cases of diffuse midline glioma (DMG).
Dr. Mackall's development of GD2-CAR T cells for patients with osteosarcoma and neuroblastoma, which has since translated into the development of a GD2-CAR T-cell therapy in clinical trials for children with Diffuse Intrinsic Pontine Glioma, a rare brain tumor with no available treatments.
If you would like to donate or partner to help Alliance for Cancer Gene Therapy support groundbreaking research, please contact Keri Eisenberg, CFRE at keisenberg@acgtfoundation.org! 100% of your donation supports the research and development of cell and gene therapies that are already changing patients' lives.
One gift can change the future for everyone.
Leaving a lasting impact is the goal when most people think of the legacy they hope to leave for the next generation.
When you include ACGT in your estate plans, you can feel confident that your investment will be responsibly stewarded by our Board of Directors, Scientific Advisory Council and staff, who will direct your gift toward tackling the biggest cancer challenges today, ensuring ACGT's long-term sustainability toward achieving a cancer-free future. Our team ensures that ACGT invests in the most promising cancer cell and gene therapy research with the greatest potential for realizing more treatment options and faster, permanent cures.
What role will you play? Contact Keri Eisenberg, CFRE, Chief Philanthropy Officer today at keisenberg@acgtfoundation.org to discuss how ACGT can fit into your legacy plans.
The latest from around the cancer cell and gene therapy research world.
All newsletters.
Subscribe to our newsletters.