Welcome to our July 2022 newsletter.
How to beat the obstacles facing cell and gene therapy for solid tumors.
The use of cell and gene therapy for blood cancers has been an undeniable success. However, scientists are finding it tougher to develop effective therapies for solid tumors, such as lung cancer and brain cancers.
There are a few challenges facing cell and gene therapy researchers and doctors, but we can overcome these obstacles. Here are a few of the issues facing cell and gene therapy for solid tumors, and solutions learned through important research.
Alliance for Cancer Gene Therapy is helping many of these research projects make these important discoveries. ACGT funds breakthrough cell and gene research to develop living medicines that leverage the body's immune system to defeat cancer. The first step in our funding process is generous people such as yourself making a donation to the Alliance.
Your gift today will help us overcome these challenges and turn cell and gene therapies into the long-awaited cures for cancer.
Swimmers hit the water to raise money for cell and gene therapy research.
Swim Across America Fairfield County held its 16th-annual Open Water Swim on June 25 in Stamford, CT. The event raised money to benefit Alliance for Cancer Gene Therapy, which funds innovative scientists working to harness the power of cell and gene therapy.
Swimmers, volunteers and supporters have raised nearly $300,000 to date for ACGT from this year's event and more than $5 million since becoming a partner of ACGT.
We've published a photo gallery on our website with pictures from the event. Thank you to Swim Across America Fairfield County for putting on a safe and amazing event to help us transform cancer treatment and continue driving momentum towards a cure.
Don't miss ACGT's regular blog posts.
Sarcoma Awareness Month: Get ready for 2022 Wendy Walk.
July is Sarcoma and Bone Cancer Awareness Month, which is also an opportunity to highlight an important upcoming event that helps advance cell and gene therapies for sarcoma.
Wendy Walk will be held Sept. 18 in Santa Monica, CA. You can sign up for the event here. The event launched more than a decade ago after Wendy, the event's namesake, was diagnosed with sarcoma. This type of cancer begins in the bones and soft (connective) tissues. There are 12,000 new cases diagnosed in the U.S. each year.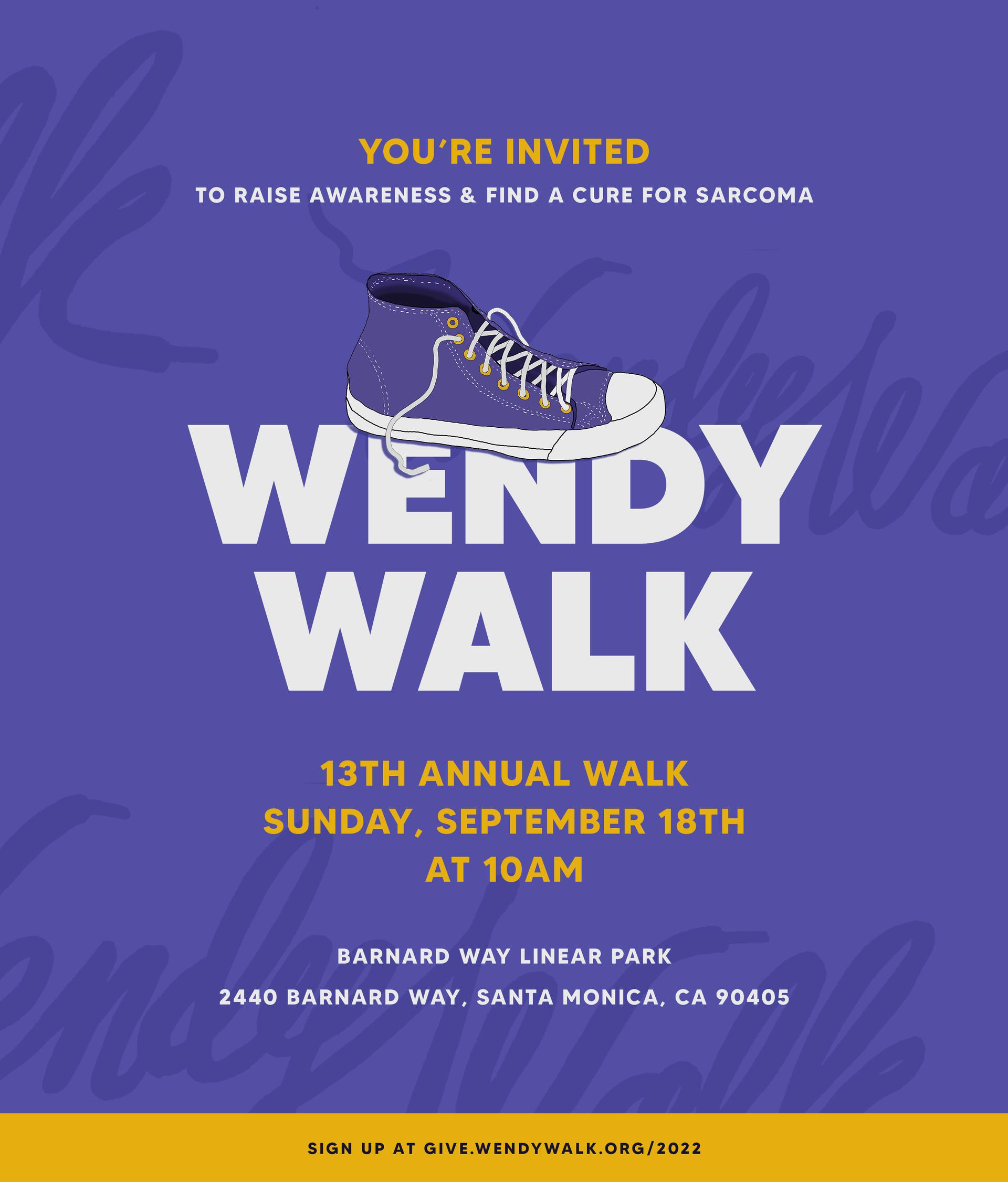 Wendy passed away in 2013 from her sarcoma, but she was able to help her family launch the annual Wendy Walk event to raise money for crucial sarcoma research. Alliance for Cancer Gene Therapy is one of the beneficiaries of this annual fundraiser.
One of ACGT's Research Fellows is Stephen Gottschalk, MD, of St. Jude Children's Research Hospital. He received grant funding from ACGT in 2019 to investigate the potential of cell and gene therapy for sarcoma. His work involves finding two protein targets on sarcoma tumors to strengthen the effectiveness of CAR T-cell therapy against this cancer. The money raised from Wendy Walk helped ACGT fund Dr. Gottschalk's promising research.
For more information about this event and the important work of this non-profit organization, please visit the Wendy Walk website. We hope you will participate in this important fundraiser to help people affected by this type of cancer.
The latest from around the cancer cell and gene therapy research world.
All newsletters.
Subscribe to our newsletters.